The Right Lens For The Right Job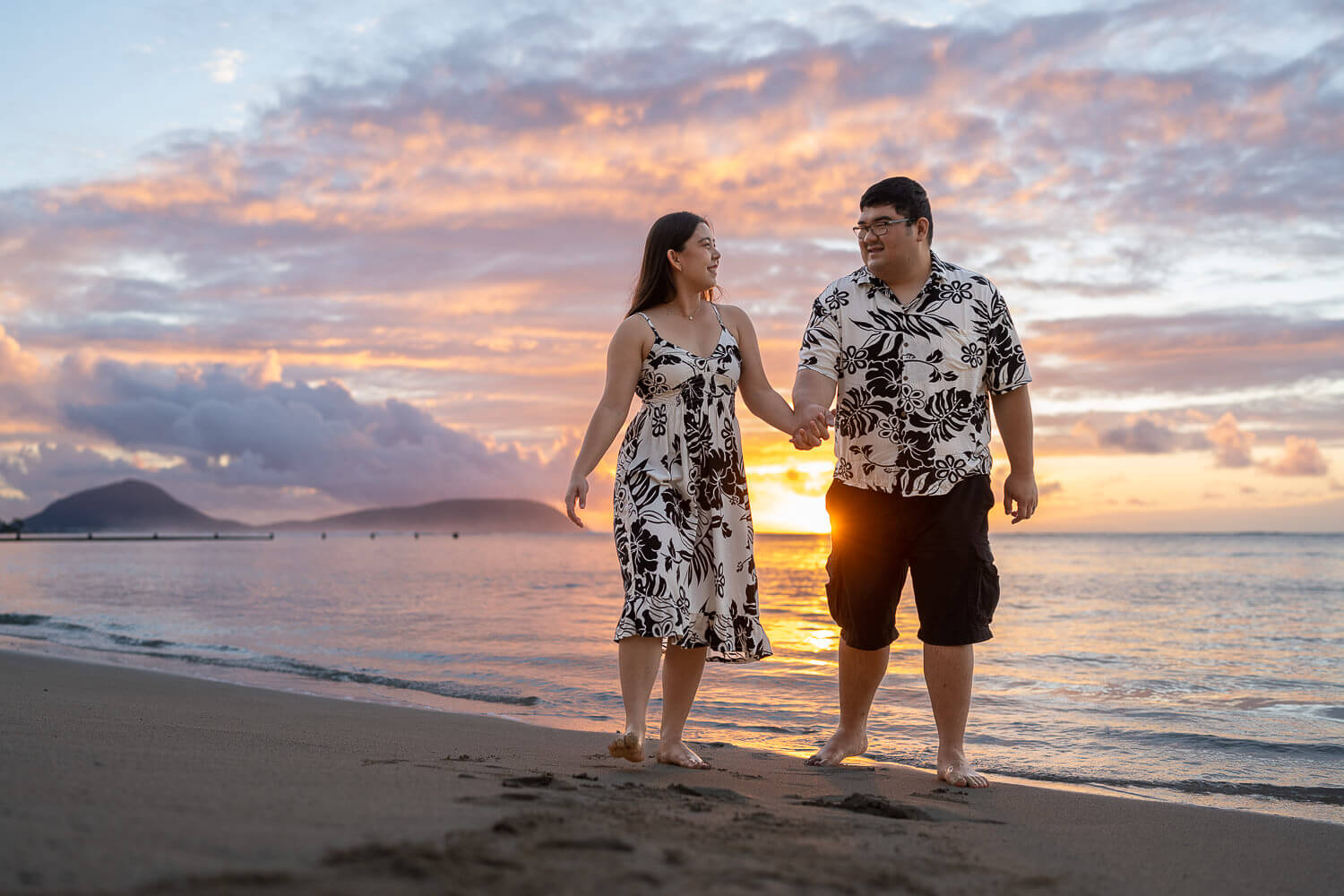 This was a learning process, I reached out to a few friends for lens recommendations for natural light environmental portraiture. They gave me all different combinations of lenses. I didn't think any of them would have the exact same lens setup in their bag & I was right. I noticed that they all had a prime or zoom setup, a wide 16mm-35mm range for family portraits & a telephoto 70-200mm range for more intimate tight portraits. Some preferred zoom & others, like myself, had prime lenses. I'm a prime lens guy & have never been much of a zoom person.
For the 1st photo shoot at Sandy Beach, I brought my 24-70 f/2.8, 85mm f/1.4 & a 135mm f/1.8. I love the 135mm, it has a look I can't get from any of my other lenses! The 85mm never came out of my bag. For this style of shooting, the 24-70mm just didn't click with me, I used it just for a walking series of shots & threw it back into my bag & kept the 135mm on for 98% of the shoot.
For the next couple's photoshoot behind the Kahala Resort, I ditched the 24-70mm & 85mm, replaced both lenses with a 50mm & kept the 135mm. This combination worked out so well for me, my dynamic duo! I started out the photo session with the 50mm & kept it on for about half the shoot. It's a very versatile lens to grab a wide if I have enough room to backup & I'm able to get in tighter for a close-up shot. I've always loved my primes, even with my high-production photo shoots. My only issue with the 135mm is that it's HEAVY, a little over 2 lbs + 1.4 lbs for the camera body!!! I need to pack my leather cross-body Lucky Strap. I have a dual camera strap, but with all the crazies out there, I didn't want too much gear visible, just a small safety precaution. I'd rather stay low-key than be seen as a potential target for thieves.
I think my bottom line for lens selections for an individual or couple photoshoot will be a 50mm & 135mm. If I'm photographing a family, I'll throw in my 35mm in addition to my base kit of a 50 & 135.
Another thing I'm very diligent about is the safety of my client. I love the ocean, & I'm always working near the shoreline, I'm constantly thinking of where I'm placing them, where the waves are breaking & always, always, always scanning my surroundings for potential trouble, a homeless person & or suspicious-looking peeps. The Oahu photo shoot experience is just as or even more important than the images I create with the people I photograph.
Creating memories from the heart ❤️…Aloha
https://hilifephoto.com/wp-content/uploads/2023/03/Kelsey-Gaven-HiLifePhoto5-1.jpg
1000
1500
admin
https://hilifephoto.com/wp-content/uploads/2023/04/SiteLogo2.png
admin
2023-03-06 05:00:47
2023-09-22 19:03:48
The Right Lens For The Right Job