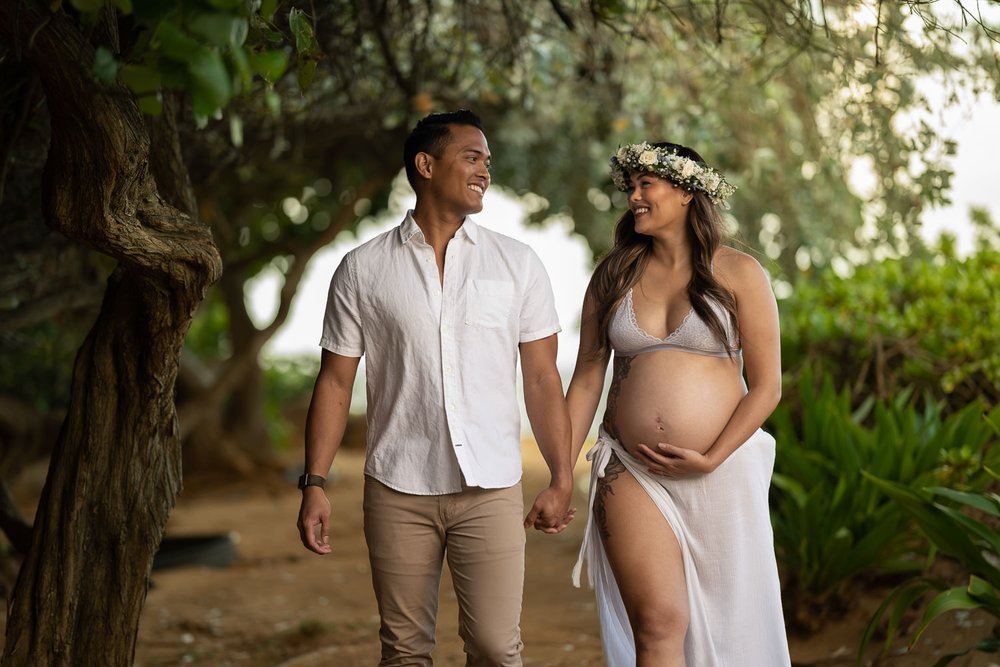 Sony A7IV | Sony 135mm f/1.8 | Shot at f/1.8 | Shutter 1/250 | ISO 100…Early pre-sunrise shot with 1 flash & a MagMod Magsphere.
For 15 of the 19 years of my photographic career, I've ALWAYS been a flash person. I just never believed in using natural light with portraiture, especially the way I shoot, dark & moody. I use the flash to bring out only what needs to be seen. This whole natural light thing is sooooo new to me & as always, I'm overthinking it! Luckily I eased into the very 1st natural light photo shoot during sunrise at Sandy Beach, thankfully, it was an overcast morning & I didn't have to deal with the harsh sun blowing out the sky & me freaking out because I couldn't see any detail in the clouds! Lol! I'm such a drama queen!
The 2nd shoot was a couple & it was a beautiful sunrise! This was a learning experience for sure. I did have a basic understanding that I needed to expose for the couple & let the background sky blow out. Which I hate doing, that has to be my #1 pet peeve! The trick was to figure out how much detail in the shadows I could pull out on the couple in post. According to Sony, its sensors have about 15 stops of dynamic range, the keyword is "according" to these camera companies, they always overhype their camera capabilities! I know that I can pull up the exposure & shadows at the most 3.5 stops in Lightroom & with the noise reduction & sharpening technology in the software today, I feel a lot safer to push the RAW files a little bit more in camera.
Sony A7IV | Sony 135mm f/1.8 | Shot at f/2 | Shutter 1/2500 | ISO 100…Early pre-sunrise shot with 1 flash & a MagMod Magsphere.
In the images on this blog, a maternity shoot with the beautiful couple Jenn & Edric, I did bring 1 small flash, Flashpoint 100Pro, a Magmod Magsphere & Maggrid. I had an assistant, a friend of mine, Brandon, to hold & move the light. It was used more of a fill in these images since we were under the shade of the trees (1st image on this post). In the 2nd & 3rd images, it was used as a key light & I wanted to capture the colors of the blooming sunrise, but in my opinion, the 2nd picture had more impact as a black & white. I need to pack a 1/4 stop CTO to help simulate the colors of the sunrise. The Flashpoint 100Pro did fit into one of the slots in my Wotencraft bag & the small, lightweight carbon fiber light stand was easy to carry, fully collapsed at about 18" in length & weighs practically nothing.
Although weather conditions weren't very hospitable, with the cold 20-30 mph winds & being blessed with some morning showers, Jenn & Edric was amazing! It's not the 1st time I've shot with them, in fact, this is part 2 of a maternity series I had planned with them. In the 1st part, I created a small portable in-home studio at their home, but more on that in another blog. Here's a link to a gallery on my other site dedicated to my flash photography, ryansakamoto.com.
Sony A7IV | Sony 50mm f/1.2 | Shot at f/1.2 | Shutter 1/320 | ISO 100
I feel more confident with 4 photo shoots in the bag & I can now give more of my attention to my clients on their posing & capturing moments they can cherish for a lifetime! With that said, I'm still learning how to get better with natural light shooting. Mahalo to ALL the people who have supported me on this new journey!!!
Creating memories from the heart ❤️…Aloha
https://hilifephoto.com/wp-content/uploads/2023/03/RSS_4130_Feb2623.jpg
667
1000
admin
https://hilifephoto.com/wp-content/uploads/2023/04/SiteLogo2.png
admin
2023-02-27 05:00:15
2023-09-22 19:03:49
FLASHLESS…ALMOST