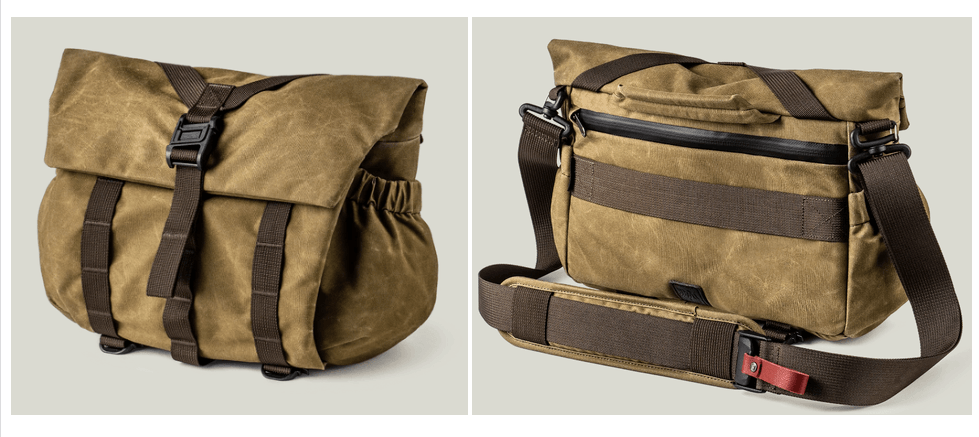 Image provided by Wotencraft
THE RIGHT BAG FOR THE RIGHT JOB.
Finding the perfect camera bag for my natural light couples, individual, and engagement shoots. Unlike my Shimoda sunrise seascape backpack, when shooting natural light, I need quick access to my lens in my bag, so having to remove my backpack & unzipping it to swap out a lens is definitely a no-go! I waste too much time, too much of my client's time. I wanted to carry as little gear as possible, so downsizing my lens selection was very important.
A shoulder bag would work best, so I purchased a ThinkTank Retrospective 10, I love the material but thought that it needed more pockets to hold my smaller things, like SD cards, wallet, batteries, Polaroid printer, and light bending modifiers, I love having my compartmentalization.
I ordered a ThinkTank Retrospective 30, which was bigger, but I still didn't like the way the top flap didn't cover the side edges that could possibly have rain leaked into the main compartment where my lens was & having only 1 side water bottle pocket.
I did some more research & found the Wotancraft Pilot 10L Khaki brown canvas. This bag has everything I need to access my gear & "stuff" without constantly opening flaps. The 2 front pouches are add-ons that clip onto the molly straps. The right pouch holds my Polaroid printer, & the one on the left has all of my light-bending accessories. On the inside, the middle divider has my Sony A7IV camera & a mounted Sony 135mm f/1.8 GM lens with the hood reversed. On the right, tucked under the folding divider, I have a Sony 35mm f/1.4 GM with the hood mounted & ready to use. The left divider has all of my microfiber cloths & bulb blower. A slot on the inside can hold my 11" iPad if I need to bring it. The left side outer stretchy pocket is reserved for my 24oz coffee-filled Hydroflask. On the other side pouch, I'll have my subject's phones & keys tucked away.  
Another little thing I like is that when I have the bag on my shoulder crossed chest, the cover flap stands up when I open it to grab something out of my bag, as the Retrospective, I have to hold the flap with 1 hand or hold the flap open tucked under my chin to see what I'm doing while digging into my bag. It's all the little things I appreciate!!!
The middle pocket holds my Sony A7IV with a 135mm f/1.4 GM attached. The right pocket 35mm f/1.4 GM & the left holds my JBL GO3 Bluetooth speaker.
The 2 front pouches hold my light shaping tools & Instax printer.
I'm in love!!! They do have a 7-liter version, but that's definitely too small for my needs, if your listening Wotencraft, my wishlist 2023 is for a 30-liter Pilot sling bag, then all my bag dreams will have come true! If anyone is interested, here's the link to the WOTENCRAFT website here.
Creating memories from the heart …Aloha